REVLON eyecolours review
Holla, makeup junkies, beauty enthusiasts.. I know, I didn't update my blog that much. Busy with my family's business lately. >_<
SO, last month I got a lot of freebies from REVLON Indonesia. Thanks to my dear friend,
Stella Lee
. Without her, I won't get any. *kuss kuss*
OH, I won
@REVLONid
twitter's quiz too! Another way to get freebies. :P
YOU should follow them. WHO DOESN'T LOVE FREE STUFF, ANYWAY? *giggles*
I want to do a review one by one. On this post, it's EYECOLOURS time. Let's go..
REVLON COLORSTAY eyeshadow quad - Inspired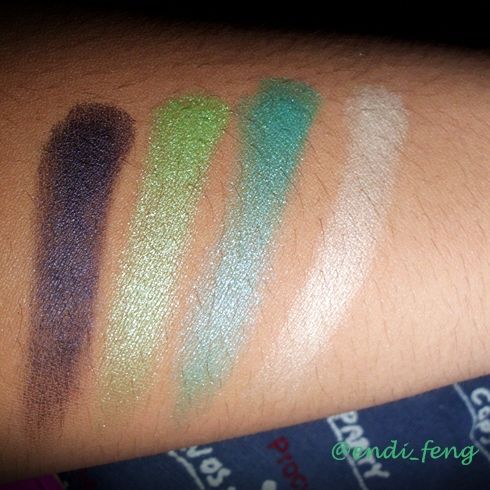 swatches - Inspired
This "Inspired" eyeshadow quad is T-R-I-C-K-Y! Deep violet, and bright turquoise aren't great combination to achieve a wearable look. Some might ended up looking as "domestic violence victim" eyes. Does black/blue eyes ring a bell? Teehee.. BUT, I love these colors. The mint green, and turquoise are too shimmer for me, however they're great to add an accent on the eye if you wear violet or pink contact lenses[according to color chart theory for makeup].
REVLON COLORSTAY eyeshadow quad - Enchanted
swatches - Enchanted
Are you "Enchanted" by those colors? I AM! Look at them.. They are sooo pretty! So wearable for daily, from day to night, from nude to smoke. It should be a HAWT item in your makeup pouch. The shimmer are nice. Love it, like it, you won't go wrong with this quad!
Those REVLON COLORSTAY 16-HOURS eyeshadow quad are prolly my fave of Revlon's eyeshadows so far. Because I've tried the other eyeshadow palette from Revlon, they are so chalky and hard to build the colors.
The Cons of these Colorstay Eyeshadow quad are:
Shimmering. If you got a very wrinkle eyelids/aged eyes, you might want to skip them as they hi-light the wrinkles.
Fall outs. Don't forget the eyeshadow base, foil it as you please, or simply work on your eyes first then the face makeup. Please treat the eyeshadow like any other powder products, if you over apply it on the eyes, it'll cake on you.
DO NOT ATTEMPT BY THE 'HOW TO' ON THE PACKAGING'S BACK! The illustration are not suitable for Asian's eyes, if only you get almond shape or deep set eyes, it'll be your ultimate guidance.
It creases. Like any other eyeshadow, they're facing the same problem.The trick is, like I said, treat them as another powder product. Use it to set the foundation, and eyeshadow base you've applied on the eyes. You can always build up the color, but don't forget to blend it well. Less is more

..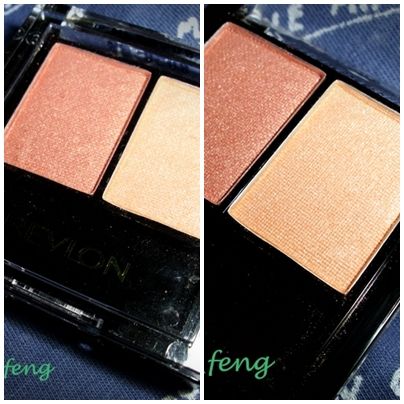 REVLON WET/DRY SHADOW - Lava Blast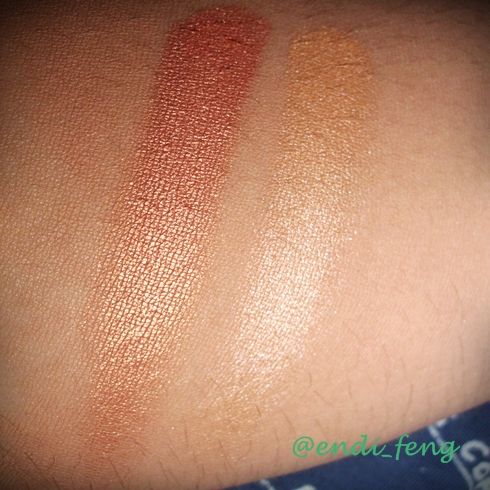 swatches - Lava Blast
A duo "Lava Blast", like the name, it gives you a blast on the eyes. It's great to be eyes hi-lighter, apply it on the center of the eyes, it'll make your eyes look rounder. BUT, it gives another "blast"! It falls out like mad. Word of advice: TAP OFF any excess of this product on your brush before apply it on the eyes, or you can foil it with baby moisturizer/eye drops to get a vibrant color & lessen fall outs.
That's it for now. Will do another REVLON review on the next post. Keep up with me..! >_<
XOXO