Etude House SKIN MAL-GEUM in Fresh
Annyong Haseyo..? Oren Maniya..
(HI, howdy? It's been a while..)
OK.. Imma review about Etude House's Skin Mal-Geum, which is a skincare line consist of toner, and moisturizer. Didn't buy the moisturizer though. Had tried the moisturizer in sample size. Well, it's nothing to compared with the cheap-ass Hada Labo moisturizing lotion. HAH!
So, I go for this Oil Control toner, Skin Mal-Geum in Fresh.
In Korean, it's called Se-Khin Mal-Geum Phi-Ji Khon-The-Rol(oil control).
HAHA I knooow.. Sounds funny. But I love speaking in Korean. It's.. Arousing. LOL *weird*
I bought this, because I'm tempted by Phanie's post about it.
CLICK HERE
to read what she said about another variant of Skin Mal-Geum.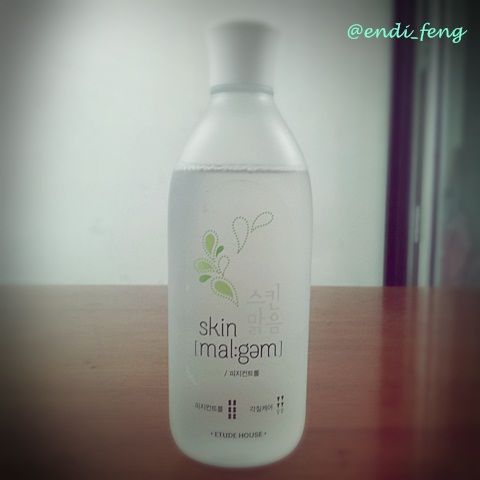 Etude House Skin Mal-Geum in Fresh
When the first time I tried the sample, I've fallen for the smell.. It smells so good!
I'm not a skincare junkie or something. And I'm kinda LAZY to put on some products on my face.
BUT I GOTTA..
This toner helps me to minimized my pores, clean those oil on T-zone, and moisturizing (a little) at the same time.
Well, in other words, generally, toner preps your skin before you put on any face product.
"Mal-Geum" is the Korean word for cleanness, clarity, and pureness(or purity? is there such word? mmkay..)
I usually use this toner to prep my skin before makeup, works on my oily eyelids as well.
Most of the times, I use this toner to wipe off the excess mask when I'm using my
L'Occitane Angelica Instant Hydration mask
.
OK. So..
ARE YOU MAL-GEUM YET?
I AM..
*Angelic pose*
XOXO
@endi_feng