Givenchy Beauty Event - MAY 2012
On 5th of May, I was invited to a beauty event hosted by Givenchy. I was late when I arrived at the venue. The girls from IBB(Indonesian Beauty Blogger) community were already there, and had tried some of the products, and still queuing to have their facial skin checked. While they're waiting for the skin check routine, I decided to get me a make up session with one of the BA.
First, I got my face cleaned, because I've applied bronzing gel from home. Then followed by facial spray, and eye serum(PS: when the BA applied the eye serum, she massaged my brow bone, the outer edge of the eyes, and the under eyes, she said it helps the serum work more effective). After the eye area, my face was applied with face serum & moisturizer. Without blotting or let the moisturizer set to the skin, the BA continue with applying "photo perfexion light" fluid foundation #2 on the center face, & #6 on the rest of the face. I LOOOVE the foundation! It gives my skin a light sheer, with light-weight feel, where you won't feel like you're wearing a mask when you put it on. The she set my face with prism loose powder. Just FYI, I love the Givenchy brushes!! No kidding, if I can have 'em, I'll go for the powder brush, and the buffing brush.
The skincare products & makeup I used on the event
While I was getting my makeup done, I chat with the Givenchy's representative. She's so nice to explain to me each product that the BA putted on my face. And she said that the 'photo perfexion light' fluid foundation is the latest item which enter in Givenchy Indonesia. Despite of its great light-weight feel, I'll reconsider to buy them. Even I have put on the dark shade (#6), my face still appearing pink-ish on pictures[I'm having a yellow tone skin]. Wish it comes with a larger range of shade.
After all, Givenchy skin care is the next thing that I would like to try next time. It gives me glow, and the moist that I love. SO, SO... Go give it a try, Givenchy can be found at SOGO Mall Kelapa Gading, & Seibu Grand Indonesia.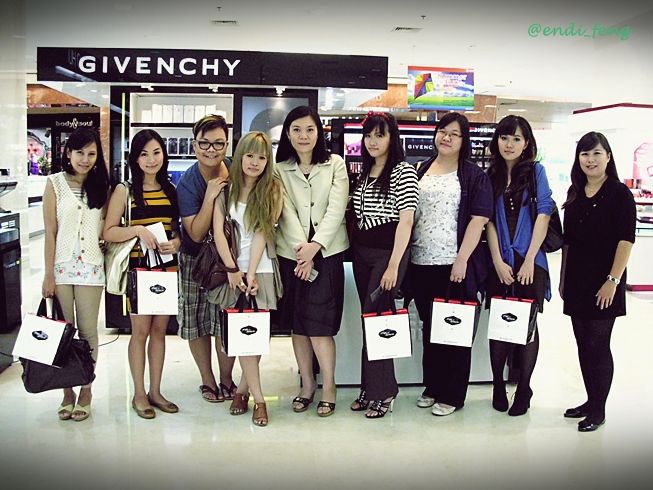 Me with the IBBs, and Givenchy's representatives
XOXO
@endi_feng