House of LUX White
HI! This time it's all about "Just A Little Touch of LUX"..
Last 2 week, I was invited by LUX to attend their "House of LUX White" event, in the spirit of "LUX White" campaign.
It took place at The Dharmawangsa's Grand Ball Room..
LUX always wanna impress the market with a 'Million Dollar Feeling' beauty soap.
And it began with the 'LUX Magical Spell' last semester [or over 70 years? HAHA >_<].
[
click HERE to read my report of LUX Magical Spell in my mother language
]
Me and, Gabby were going together.
I even had the chance to do her makeup before we go go.. WOOT!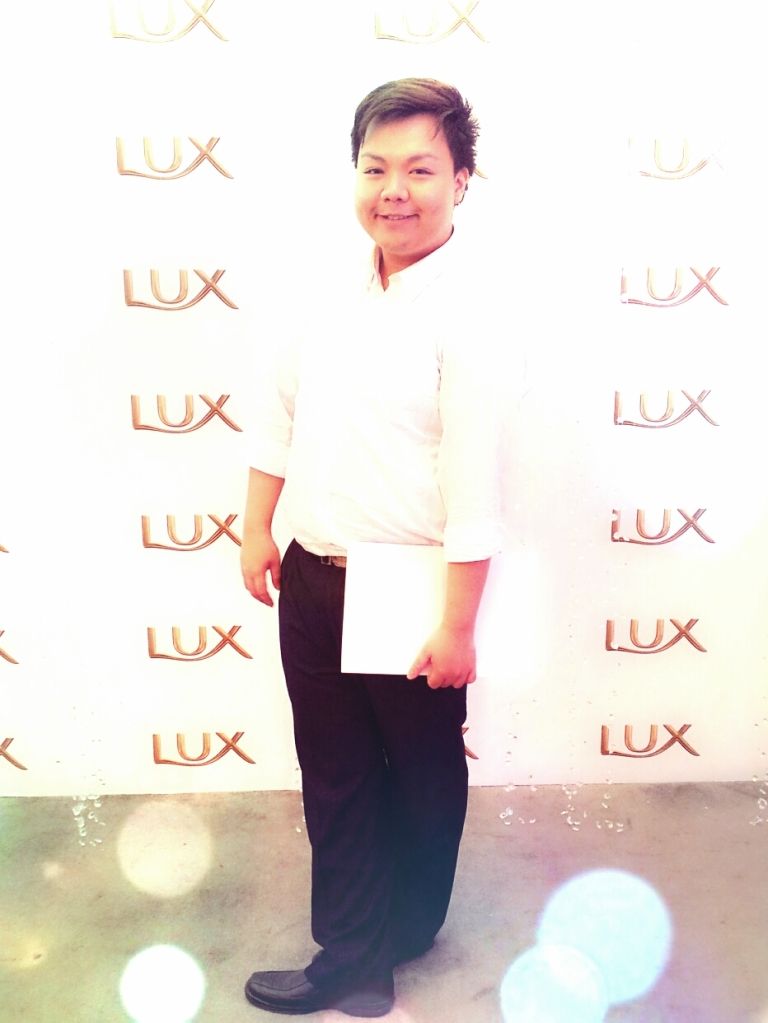 HI.. >_<
After stuck on traffic, and being lost for almost 2 hours, we arrived at the white party..
I'm glad we(me, and Gabby) impressed our blogger fellas with our appearance.
HAHA it's rare to see me suit up for an occasion.
Me and fellow bloggers (source: milkmochi)
When I enter the venue where the event took place,
my eyes were pleased with soap bars, soap bottle, and soap bar placing which has been bedazzled with Preciosa, Genuine Czech crystal. like, Oh My God... So pretteeeh~
bedazzled!
And the event began. The reason why I was so perked up about is the MC!
HAHA Amy Zein is so hilarious!
It's cool that she even remembered me, and spotted me when she's entering the venue. Kyaa~
Afriani Karina
, Senior Brand Manager of LUX Indonesia, approached the stage and said:
"To SHINE is a power that drives women think that they can achieve everything ahead. It's a MINDSET, ATTITUDE, and ACTION."
The guest speaker,
Roslina Verauli
, a psychologist, supported that statement by saying:
"Each person there's a WANT to shine. Most of the women are thinking that by having a fair skin, they feel more precious, and boost the confidence, even by being that way it's comforting for them to face their life, in social life, or in their career."
Afriani, Verauli, Amy (source: milkmochi)
Some points, I can't go with them. BUT! Ms Verauli got a point after that, "inner beauty is important. But don't forget the outter beauty. People can always say that DON'T JUDGE A BOOK BY ITS COVER, but first impression, the outter, is what people see on you when they met you."
THAT'S WHY, GIRLSSS.. HOLLAAA! *ok, It's lame I speak holla*
AND the stars of the night came out..
LUX White Glamour, LUX White Radience (source: milkmochi)
To maintain the softness, shine, and moist of skin, LUX present:
LUX White Glamour : the Triple-Ingredient-System are mulberry extract, honey, and microfine crystal. It helps to reduce the dead cell skin, and maintain the softness of skin.
LUX White Radiance : the Triple-Ingredient-System are mulberry extract, honey, and crushed shiny pearls. It gives shine, and nourish the skin ate the same time.
Well, I have experienced the soaps.
The White GLAMOUR
has the scent that I love the most of these two. It's sweet of lilies, roses, jasmine, with a hint of musk, vanilla, honey, and fruits. And it got the tiny little pearl that pop when I scrub it on my skin. Maybe that's the stuff that helps to get rid of the dead cells skin.
The White RADIANCE
is the softest scent of LUX liquid soap I have ever been using. I can smell rose, freesia, fruity, honey, citrus, and amber. The texture is very rich, honey like, with some crushed pearls[mica?] in it.
In other words, these two soap really does the job as a soap that gives 'million dollar feeling'.
The feeling of 'millionaire' comes with the campaign! They are co-working with the Preciosa, a crystal maker company from Republic of Czech.
Preciosa is well-known as their fine artistry of their works in crystals, chandeliers, and have worked with so many fashion houses, and PALACE(s)!
Roslina Verauli, Afriani Karina, Kucera Vojtech, Amy Zein (source: milkmochi)
Mr. Kucera Vojtech, representative from Preciosa said, "like crystal, women have a lot of sides that are shining. Crystal and women give timeless beauty. We(Preciosa) are glad to getting involved in this campaign."
TARAAA the Giant LUX White (source: milkmochi)
OK, there's a literally giant LUX White, you see.
The size is like 5 meters tall, the wide is 2 size of my body.
By 15th of October 2012, until 25th of November 2012, LUX is collecting OUR dazzling moments!
Check out
LUX facebook page
, or their twitter
@LUX_ID
for further information.
Until then, Preciosa is presenting 1 fine crystal for each of our dazzling moment that has been collected by LUX, and the crystals gonna be bedazzled on the giant of LUX White! AMAZING!
A symbol of Indonesian DAZZLING MOMENTS of their lifes. WOW!
Don't forget to contribute your dazzling moments, pretties!
I know you got lots of it..
If you don't, FIND ME! I'm gonna bedazzled you! HAHA
XOXO